Austro Engine representative diesel engine for next generation of aircraft engines
From October 12th to 15th, the 14th Japan Aerospace Exhibition was held at Tokyo Big Sight. More than 700 hundred companies were represented, and the hall was filled with more than 40,000 visitors, including the vice president of Diamond Aircraft, during this time. This was the largest-ever aviation event in Japan. Alpha Aviation successfully introduced the Austro Engine at this time. Many attendees were very interested in the engine. Alpha Aviation labeled the engine components so visitors could see the structures of this engine clearly from any direction. Executives of Diamond Aircraft and Alpha Aviation also introduced the DA40NG and DA42VI using a huge screen and held an information session for all visitors.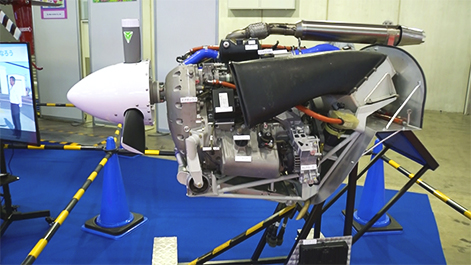 Attendees loved the beautiful airframe of the DA series and enjoyed seeing the DA diesel engine. Alpha Aviation brought the Austro Engine AE300 into the booth to show it off. Not only did the visitors who stopped by and took photos of it, but also representatives from other companies joining this event, were attracted to the representative diesel engine for the next generation. The engine drew a lot of attention throughout the event.