The Vision of Alpha Aviation – The Sky's Open
Alpha Aviation, established in 1985, is an aviation company recognized by the Japanese ministry of transport.

Flight training, aircraft sales, aircraft maintenance and aerial photography among many business areas; Alpha Aviation leads the aviation industry of Japan. We can provide training in various areas such as in instrument flight, flight instructor and even multi-engine turbine ratings, and comprise around 70% of the flight training in the nation with top-seeding in pass-rates and graduate employment success.

Despite our staggering amount of flight training hours, we have kept a baffling safety record with no accidents in our entire company history since establishment. This is recognized by various public ministries and prefectures resulting in them entrusting us with training of their pilots and engineers.

Based in our heliports we have dozens of Robinson R22s, R44s, AS350 single-engine turbine, Agusta 109C twin-engine turbine aircraft, where our maintenance staff with excellent knowledge and know-how keeps the aircraft in the air with a superb safety record.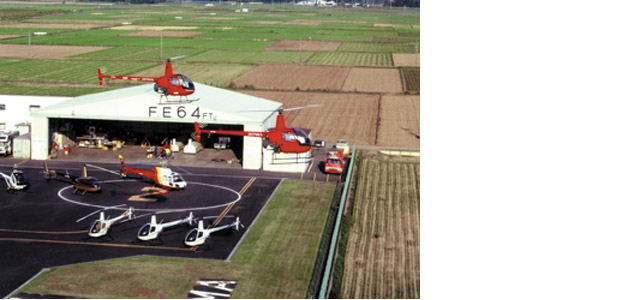 Sharing the Fascination of Helicopter and Airplane Flight for 26 Years

When you've been taking a trip piloting a helicopter or airplane just once, you've had a unique taste of the sense of space, you're astounded of the way time seems to contract because of the way you're moving quicker than ever – everyone seems to change the way they look at the world after such an experience. But such an experience relies on the safe transport that the aircraft provides.

To maintain the best condition of the aircraft and provide safe flight is where the mechanic/engineer plays a huge part. If the engineer doesn't service and maintain the aircraft, it can't fly. It's the mutual responsibility of the engineer and pilot to keep the aircraft airworthy.

There's a strong connection between a trustworthy maintenance and the requests for maintenance from aircraft owners. There's a sense of pride in a mechanic to be entrusted with a very expensive aircraft; there's no end to the pleasure he takes in this task.

Everyone longs for the world of the open skies. This is not very far away – if one has the desire, it's right within arm's reach. Why don't you fly a bit with us?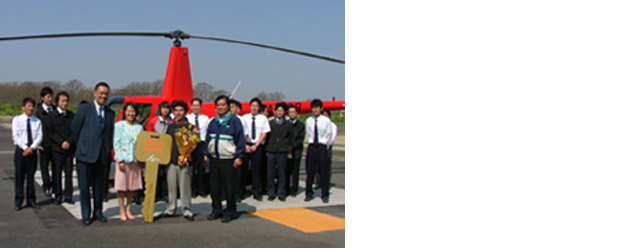 The Achievements of Aircraft Maintenance: Aircraft Certification

We're the only place in Japan that provides full Robinson Helicopter overhaul service.

Alpha Aviation is certified reseller of the American Robinson Helicopter Company products, and we supply the world's best selling helicopters, the R22 and R44. Additionally we're also a certified Robinson maintenance facility. Because of our great maintenance staff we work with a variety of aircraft types and get much business taking care of customer aircraft. We've got an excellent track record in safety acknowledged by the Robinson Helicopter Company, which has brought us the first type certificate of Robinson's small aircraft in Japan from the Japanese authorities after rigorous vetting and control. We're proud to offer this to the Japanese aviation industry.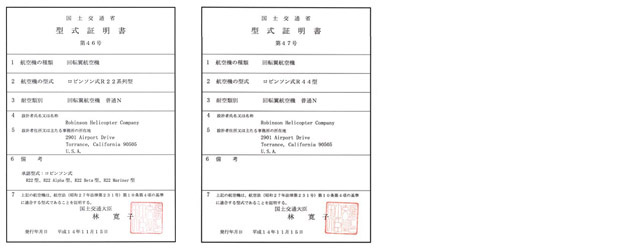 Here's a blog description (in Japanese) about the overhaul process
Here's a blog description (in Japanese) about the retrofit of a diesel engine in an airplane.