Low price, high performance helicopter.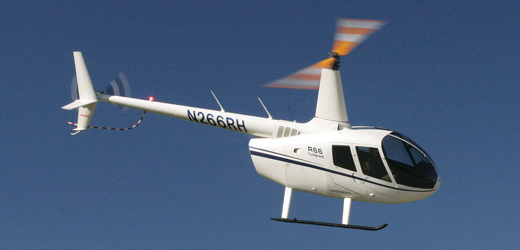 The R66 turbine-powered helicopter is an evolution of the R44 with its 2-bladed system and T-bar handle but with a larger cabin and other enhancements.
Compared with the R44, the R66 has been significantly upgraded, there's five seats instead of four, and now has a baggage compartment. HID landing light, leather seats, stereo audio system and other niceties are now standard on the R66.
It's simple as a pilot to get used to the change from an R44 to R66. The start-up procedure of the Rolls-Royce turbine engine is simple and if the pilot memorizes this, the rest is as normal. The cockpit layout is also very similar to the R44.
On the outside you'll find few changes that jumps out, but it's bigger, can carry 5 people and the cabin is roomy. The baggage compartment can take a bag of golf clubs. It's fascinating to be able to take the R66 golfing or bring a suitcase around.
Among turbine helicopters it's certainly a reasonably priced one. Feel free to have a good look and ask if we can help you with further information.
Specifications:
Cruise: 120 kts
Maximum range (no reserve tank): Around 325 nm
Hovering ceiling (IGE) : 10,000 feet
Hovering ceiling (OGE) : 10,000 feet
Climb rate: more than 1,000 feet per minute
Maximum ceiling: 14,000 feet