Robinson Teams Win
Two Gold Medals at World Helicopter Championship
ロビンソン社ホームページ(http://www.robinsonheli.com/)こちらからどうぞ
** If you want to see Spanish Version、Click Here! **
August 18, 2000 PRESS RELEASE
For immediate release.
Robinson Teams Win Two Gold Medals
at World Helicopter Championship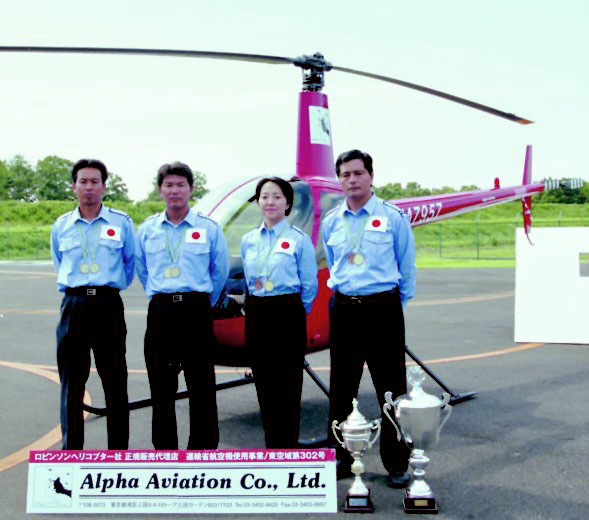 Japanese teams(from left):Akihiro Sakamoto, Takashi Tanizawa, Shizuka Saito, and Mituo Aoyama with one of Alpha Aviation's R22 helicopters.
Japanese pilots Takashi Tanizawa and Shizuka Saito and their co-pilots Akihiro Sakamoto and Mitsuo Aoyama flew their R22 helicopters to victory winning two gold medals at the recent World Helicopter Championships. The skills and concentration of expert pilots from around the world were challenged in four separate events including Navigation with Precise Timed Arrival and Drop-Off Load, Precision Flying and Landing, Navigation, and Slalom. The championship, considered the test event for the 2001 World Aeronautical Olympics, was held at El Copero Military Base near Sevilla, Spain, renowned for its bullfights, flamenco dancing, and exotic architecture. The competition attracted sixteen teams from six different countries including Japan, the United Kingdom, France, Spain, Portugal and Germany. Helicopters competing included the Robinson R22, Schweizer 300, Bell 206, Hughes 500, MBB BO105, and the Euro-copter AS332. The Tanizawa/Sakamoto team earned a gold medal for its first place finish in the Slalom competition. The team also took a silver medal in the Precision Flying and Landing event and achieved an overall score for all four events placing them second of all sixteen teams. The other Japanese duo of Saito and Aoyama finished on top in the Precision Flying and Landing event. They also earned a bronze medal for their performance in the Navigation competition, finishing fourth over-all of the sixteen teams participating. Pilot Shizuka Saito stated, "The high temperatures and unusual scheduling made it difficult for the pilots and crew to sleep, and aircraft performance suffered a bit in the 100 degree temperatures. However, we're delighted with our 2nd and 4th place overall standings and look forward to achieving even higher scores at the World Aeronautical Olympics next year." MS. Saito is the founder and president of Alpha Aviation Company based in Tokyo, where all of the team members are employed as flight instructors.
---
R44 RAVEN infomation
Turbine Speed – Piston Price
The R44 is a fast, high-performance four place helicopter designed to meet the rigorous demands of today's competitive market. The R44 incorporates the same rugged reliability, easy maintenance and low operating costs found in Robinson's two-seat R22, but with higher performance, expanded comfort, and handling characteristics similar to larger helicopters.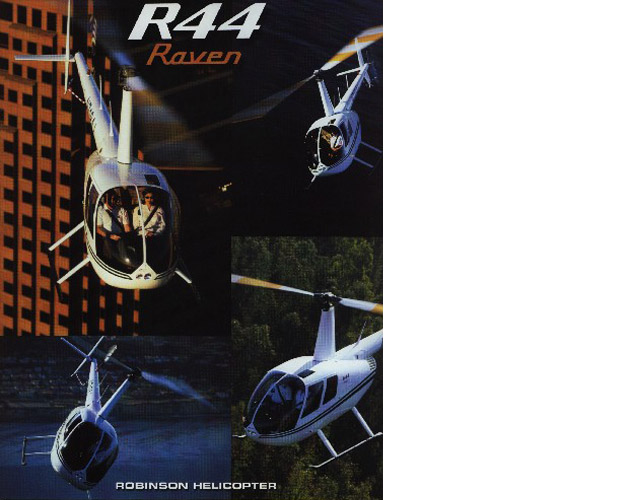 The R44's design was optimized for speed, reliability and low maintenance. Its clean, aerodynamic design allows a high cruise speed of 130 mph and an average fuel consumption of 12 to 15 gallons-per-hour.
The cabin configuration offers comfortable "two-plus-two" seating with removable dual controls. The unobstructed cabin area has no bulkhead or post between the front and rear seats, assuring exceptional visibility for all passengers,
The R44's modern design and excellent performance make it an ideal choice for a variety of private, business, and utility applications including personal and business transport, air taxi, sight-seeing, photography, radio and television news reporting, construction site support, and law enforcement.
High Reliability – Low Maintenance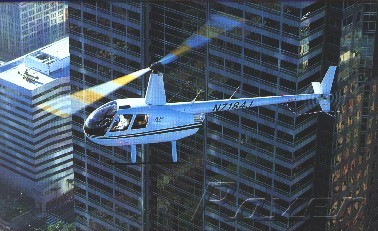 The R44 is designed to provide the same matchless reliability and simplified maintenance as the two-seat R22.
Inspections. No scheduled maintenance or service required between 100-hour or annual inspections.
High TBO. 2000 hour approved time-between-overhaul period for the R44 engine and airframe. All life-limited components have approved service lives of at least 2000 hours.
Patented Rotor Design. Tri-hinge rotor eliminates lag hinges, dampers and hydraulic struts. Thick stainless steel leading edge on main rotor blades prevents dust and rain erosion.
Lubrication. Maintenance-free flexures, teflon-lined bearings and sealed ball bearings eliminate most lubrication requirements.
Couplings. Maintenance-free flex couplings are used in place of universal joints or gear couplings in the main and tail drive system.
Controls. Primary controls are actuated by maintenance-free bellcranks and push-pull tubes, eliminating less reliable control cables and pulleys.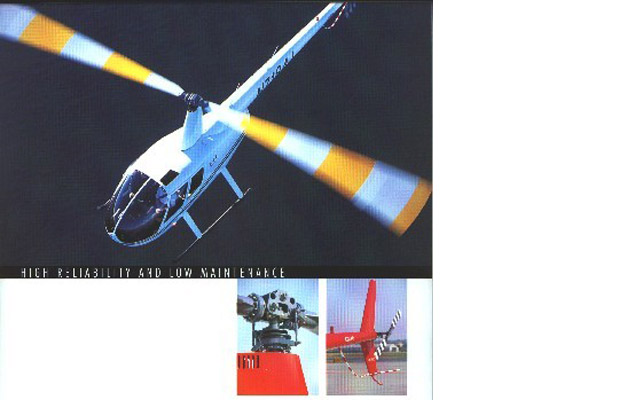 Fuel System. Gravity flow fuel system has proven reliability and eliminates the need for fuel pumps and fuel injectors.
Reliable Engine. The dependable Lycoming O-540 engine is derated from 260 to 205 HP (225 HP take-off) in the R44 for long life and reliability.
Advanced Technology
The R44 was designed to the newer, more stringent requirements of FAR Part 27, and comes with a long list of innovative, modern features for comfort and safety.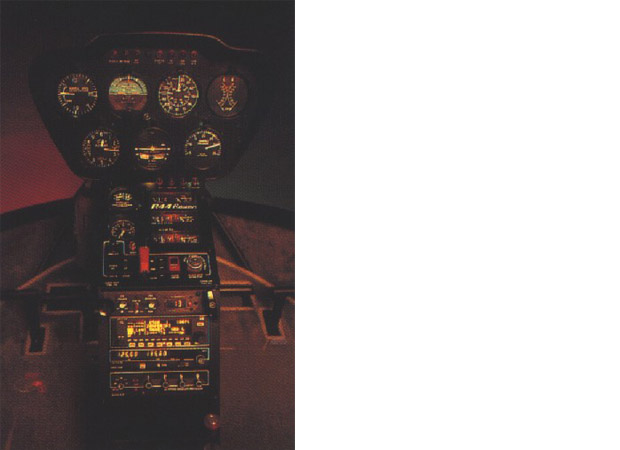 RPM Governor. No more throttle twisting; governor controls engine RPM during all normal operations.
Rotor Brake. Allows the pilot to stop the rotor quickly, greatly reducing shutdown time and chances of injury to ground personnel.
Advanced Warning Devices. Instrument panel includes low fuel warning light, main gearbox temperature and chip lights, tail gearbox chip light, low oil pressure light, low voltage alternator light, low RPM warning light and horn, rotor brake and starter engaged warning lights.
Automatic Clutch Engagement. Simplifies start-up procedure and reduces chances of an overspeed.
T-Bar Cyclic Control. Eliminates uncomfortable stick-between-knees and eases cabin entry and exit.
Carb Heat Assist. Reduces pilot work load. When engaged, it adds Carb heat when collective is lowered and reduces Carb heat when collective is raised.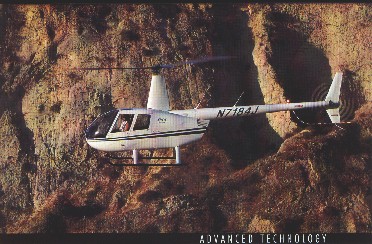 Comfort and Convenience
Visibility. Front and rear seats all have a wide, unobstructed view. No bulkhead or center post to impede visibility from rear seats. Large window in each door allows clear sideward vision. Low Noise Level. Heavy-duty crossover muffler, low tail rotor tip speed and large cambered fin to off-load the tail rotor, make the R44 a "community-friendly" helicopter, Thick acoustical foam achieves surprisingly low noise level in the cabin.
Concealed Baggage Compartments. Each seat hinges up for access to storage areas for carry-on bags, briefcases, and other belongings. Custom Robinson travel bags make cross-country travel a pleasure.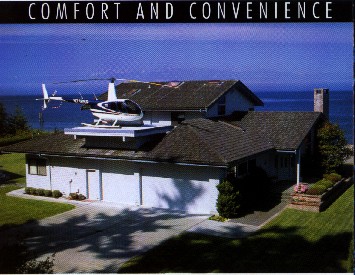 Heating and Ventilation. An adjustable heater distributes heat to each of the four seats. Fresh-air vents in the cabin nose and each door provide generous ventilation for all passengers.
Communications and Navigation. An artificial horizon and a COMM radio with voice activated intercom for all four seats is standard equipment.
Off-Airport Landings. High-mounted tail rotor with guard and long-life muffler, with raised exhaust allow safe landings at off-airport destinations.
Two-Bladed Rotor. Requires only one-third the hangar space of a multi-bladed rotor.
R44 Clipper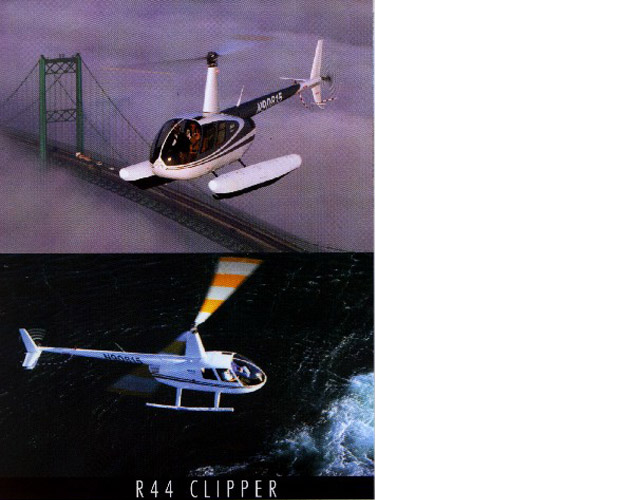 The R44 Clipper is equipped with utility floats which allow extended flight over water, landings on remote lakes, and increases safety when flying over busy harbors. The Clipper sits low in the water for added stability on rough seas.
The float installation adds approximately 50 pounds to the R44 empty weight and reduces the cruise speed by less than 10 knots. The Clipper has special corrosion-proofing throughout and comes with custom ground handling wheels. A pressure gage and hose nozzle to check float pressure are also included.
State-of-the-Art Manufacturing
In June of 1994 Robinson Helicopter Company moved into a new 260,000 square foot manufacturing facility at the Torrance Airport.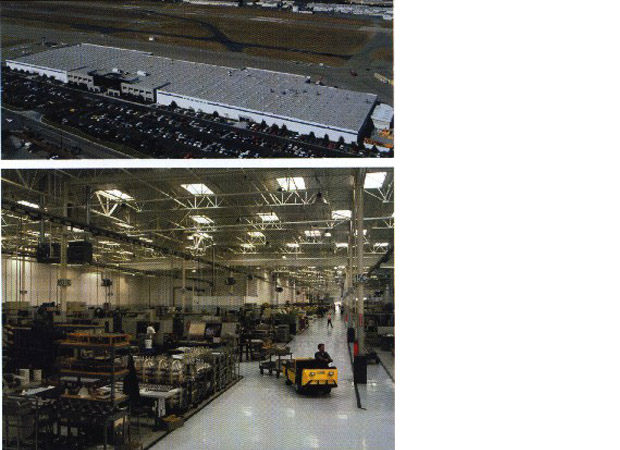 The factory was built specifically to Robinson's requirements and is equipped with the latest state-of-the-art equipment, including extensive use of computer numerically controlled (CNC) machining equipment.
Robinson is among the first American aerospace companies to meet the rigorous quality requirements and be awarded ISO 9001 certification for design, manufacture and servicing of helicopters. To control quality, Robinson performs most operations, including welding, machining, assembly, painting and flight testing on site at the Torrance factory. A 100% inspection is performed on all critical dimensions of major components,
The administrative offices include engineering, customer service and technical support. The delivery center, located in the west corner of the facility, includes a classroom where the Robinson Safety Course and Maintenance Course are taught.
External Dimensions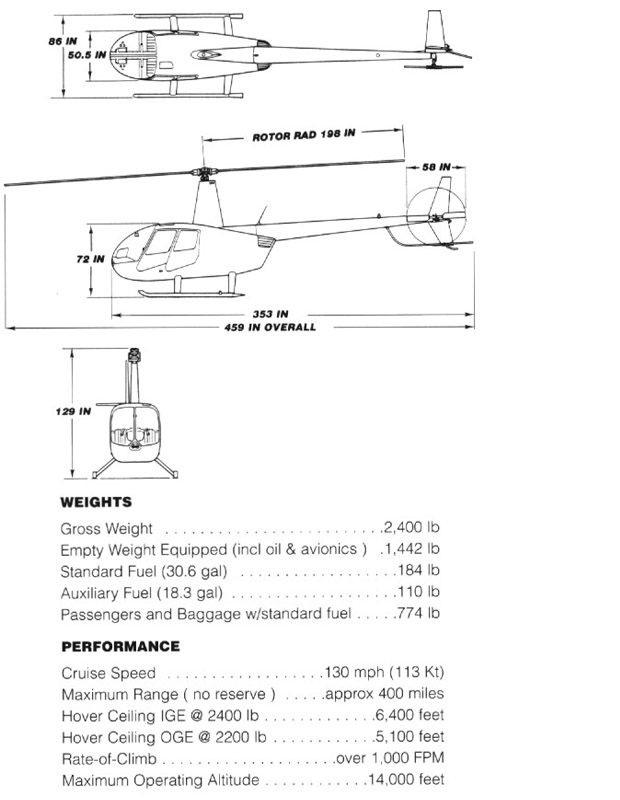 ---
Robinson R44 Sales Take-Off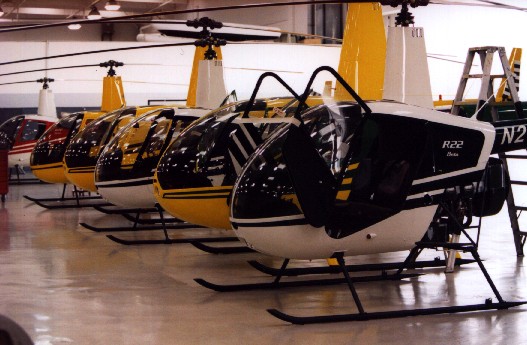 Torrance, CA- In 1998 the R44 was already the top selling helicopter in the world with 134 deliveries. In September 1999 new hydraulic power controls for the R44 were introduced and sales really took-off. Deliveries increased to 150 in 1999. The year 2000 looks even better for the R44. By mid-January Robinson had already received 119 firm R44 orders for delivery in 2000.
"With orders for the R44 reaching close to 80% of last years' total by mid-January, the R44 is positioned for another record breaking year in 2000," stated Frank Robinson, President.
Robinson is increasing the R44 production rate to five per week to accommodate the higher demand. Production is now sold out through July 2000.
Enclosed Photos: The R44 continues to set record sales. With the introduction of the Raven, the trend is likely to continue.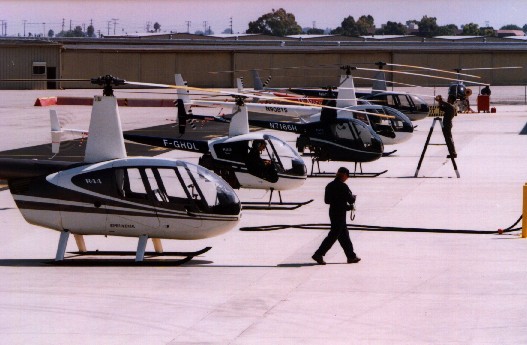 Robinson Dominates the Civil Helicopter Market in 1999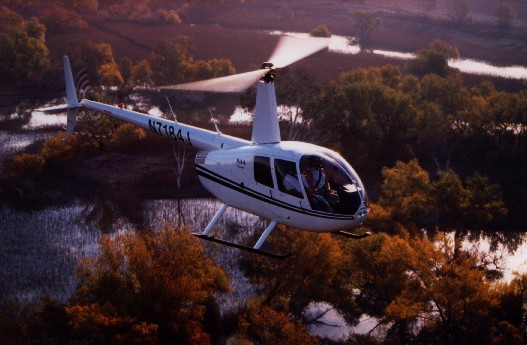 Torrance, CA – Robinson Helicopter Company continues to build on its reputation as a leader in the production of civil helicopters, with deliveries representing a 10% increase over previous year. Robinson produced 278 new helicopters in 1999 and overhauled or remanufactured 135. The R44 and R22 earned the ranks of #1 and #2 top sellers in the world.
Deliveries of the popular four-seat R44 totaled 150, while 128 new two-seat R22s were delivered. Approximately 55% of Robinson helicopters were delivered to customers outside of the United States, with the United Kingdom setting the pace with 34 deliveries. The R44 Newscopter and Police Helicopter configurations continued to gain popularity in 1999 with six Newscopter and two Police Helicopter deliveries.
"We're tremendously pleased with the ongoing success of both the R22 and R44", states Frank Robinson, President. "With 119 firm orders already received for the R44 in 2000, we're gearing up for a record year."
In response to high demand Robinson is increasing the production rate of R44s to five per week, while maintaining a production rate of R22s at three per week.
Enclosed Photos: Robinson looks forward to continuing positive sales trends with the introduction of the R44 Raven, equipped with hydraulic power controls.